Garrison Repair West, The Best Truck and Car Repair Service in Davie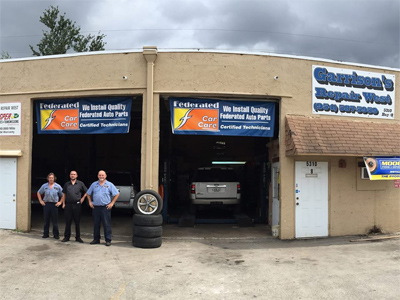 Get top-notch auto repair services today at Garrison Repair West. From AC repair to transmission services, our goal is to offer expert auto repairs at an affordable price. We are conveniently located near you in Davie. Come by our shop at 5310 W State Rd 84 bay 8 or call today to schedule an appointment at 954-587-5959.
Quick and Trouble-Free
We know your time is money. Most truck or car maintenance services can be completed while you wait. Many repairs such as AC repair, brakes, and transmission repairs will be performed that day. Straight forward or complicated, our mechanics will get your auto repairs done quickly and get you back on the road right away.
Get A Clear Estimate With No Hidden Costs
We will provide you with an easy to understand estimate before beginning any services. Ask us about options to keep auto repair costs low or upgrades to keep your car in top shape. We stand behind all of our work with a guarantee you can count on. Call today to schedule an appointment at 954-587-5959.
Our Mechanics Can Handle It
Our certified mechanics and highly skilled auto repair specialists provide the best in auto repair services for domestic and import automobiles of all makes and models.
Call today to schedule an appointment at 954-587-5959 or email us.
See What We Do!
4x4 Services, AC Repair, Brakes, Car & Truck Care, Domestic Cars & Trucks, Electrical Services, Electronic Services, Engine & Transmission, Engine Maintenance, and General Services
Vehicle Tips
Always use a detergent designed specifically for car washing. Don't use common dish washing detergent which is too strong and will remove the wax.
Always keep a good coat of wax or paint sealant on your car.
Make a habit of detailing your car. Detail your car regularly and inspect the finish.
Always use a good wax with a high Carnauba content.
You are much better off to wax your car more frequently than to try to apply a heavy coat of wax.
If you are involved in an accident don't make any public statements about who is at fault.
Keep a disposable camera with a flash in your glove box in the event you have an accident. Then take LOTS of pictures!
Be sure to remove sand and salt spray as soon as possible from your car to protect your car's finish.
Check tire inflation at least once a month. Under-inflated tires can result in a loss of fuel efficiency.
A fouled spark plug or plugged/restricted fuel injector can reduce fuel efficiency as much as 30 percent.
For maximum fuel economy, stay below 60 mph.
Don't forget to check the tire pressure of your spare tire!
Buying a fuel with a higher octane than your car requires will not boost performance.
Unlike A/C in the summer, you can run the car's heater as much as you want in the winter without effecting gas mileage.
What Our Customers Are Saying

Honest, and fair!! Would highly recommend

Long time family friend and many years of experience. Highly recommended.

I been coming to Garrison's Repair West for many years. Doug is fair and guarantees all repairs. Highly Recommended.

I have been using this garage for 20 years and I would never go anywhere else. Excellent work, fair prices, wonderful customer service.

Doug and Andy are great mechanics . They know what there doing . If you want you're car fixed right with no short cuts come to Garrison Repair !!!

Great service always. Pricing is reasonable and done right.